Created by Lawyers, for Lawyers
Legal Case Management Software to
Maximize Revenue
Score, manage, and optimize
Custom automation
25+ patented features
Reporting and dashboards
"GrowPath is the most innovative and advanced case management software I've seen."
– Ken Hardison, President PILMMA
Made for PI Law Firms
Legal Case Management Software
Find more cases
Win more cases
Optimize your practice
Maximize your revenue
Scale your business
Future-Proofing Your Firm
Modernizing Legal Software for PI Law Firms 
Lead Scoring
Efficiently accept the right cases and properly assign them to the appropriate personnel with lead scoring.
Client Intake
Automate, optimize, and scale your client intake process so you can generate more revenue while decreasing cost and effort.
Case Management
Leave no client behind. All your firm's metrics and tasks can be managed at the click of a button, with real-time updates.
Office Optimizer
Leverage prebuilt, industry-leading, best practice-based analytics to improve your firm's productivity and efficiency.
Patented Features
Case Management Software
Seamless integration enables a cohesive file experience, enhances collaborations, and supports user controls and permissions at the document level.
When your staff types, or a client says, a "trigger" word ("earplugs" if you want 3M cases, for example), our Buzzwords™ tool prompts additional questions.
Searchable, reportable, and up-to-date repository of all legal matters; configurable rules reduce data entry; track results by resource across your firm.
Get the market-leading analytics and reporting you need to run your practice off data-driven decisions, not gut feelings. Find bottlenecks in cases, identify top performers on your team, increase productivity, and control spending.
Define what "high value case" means to you, and our Artificial Intelligence (AI) based lead scoring algorithm will alert your staff when an intake reaches a certain score.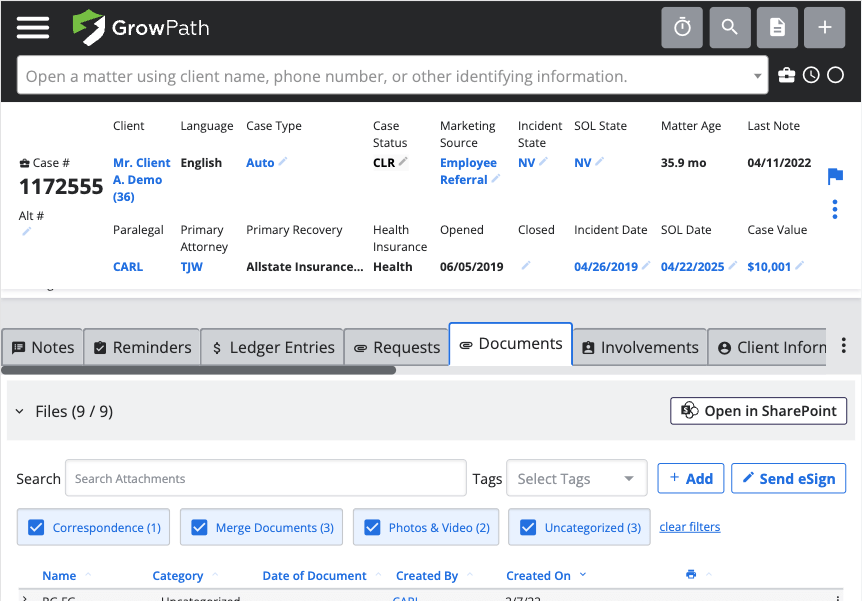 Real Legal Software Solutions
Increase Your Revenue
Case Resolution Management
Lead Gen & Marketing
Lead Gen & Marketing
Your firm's lifeblood is the effectiveness of lead generation and marketing. GrowPath supports your investments in this area through scoring your leads, ensuring a smooth intake process, and giving you clarity around your marketing's return on investment.
Increase Your Revenue
With Our Legal Software Solutions
Testimonials
Trusted Legal Case Management Software
Eric H.
Personal Injury Attorney
Gabby S.
Personal Injury Paralegal
Gabe T.
Personal Injury Attorney
Jane K.
Eminent Domain Paralegal
Kenneth B.
Eminent Domain Attorney
Mathew S.
Workers' Compensation Paralegal
Ryan B.
Workers' Comp Attorney
Wendie R.
Social Security Paralegal
Grow With Our Resources
Case Management Software