Why use GrowPath?
Case Management Software for
Growing PI Law Firms
GrowPath helps your firm maximize both revenue and efficiency. Our team is constantly innovating and leveraging state of the art technologies like machine learning, neural networks and more, to drive optimal performance for our clients.
Assign The Right Personnel
To The Right Cases With Lead Scoring
Highest-Ranked Legal Case Management Software
What is GrowPath?
Case Management Software: Your All-in-One
Legal Management Solution
Attract more clients with a better intake process and return on marketing investment.
Scale your firm at maximum efficiency through automation and advanced analytics.
Improve client satisfaction to maximize online reviews and referrals.
Stay ahead of your competition by leveraging state-of-the-art technology, not the legacy.
Our Story
Legal Practice Management Software Created by Lawyers for Lawyers
Our vision is to help each one of our clients exceed their firm's potential through state-of-the-art case management software technology.
Our mission is to deliver solutions to the personal injury legal industry, enabling firms to run more efficiently through cutting-edge software technology.
Satisfy our customers with innovative technology and superior quality, value, and service. Act with uncompromising honesty and integrity in everything we do. Do the right thing, every time.
Legal Practice Management Software
Maximize Your Law Firm's Profits With GrowPath
Allowed value range is: 20-5000
Allowed value range is: 3-36
Allowed value range is: 1000-50000
Projected Annual Income $1200000
Allowed value range is: 1-90
<$500K
$2MIL
$4MIL
$6MIL
$8MIL+
Additional Annual Income: $109091
Features
Patented Legal Features for Improved Case Management
Seamless integration to enable a cohesive file experience, enhance collaboration and support user controls and permissions at the document level
When your staff types or plaintiff says a "trigger" word (like "earplugs" if you want 3M cases), our Buzzwords™ tool prompts them to ask additional questions. This allows for less training and faster onboarding of new employees.
Searchable, reportable, and up-to-date repository of all legal matters; configurable rules reducing data entry; track results by resource across your firm.
Stay in touch with your clients via email and text (SMS and MMS) without leaving GrowPath. All communication is automatically stored appropriately.
Get the metrics you need to run your practice off data-driven decisions (not gut feelings). Find bottlenecks in cases, identify top performers on your team, increase productivity and control spending. GrowPath by far leads the market in Reporting and Analytics.
Smart reminders automatically appear based on priority, case type and actions taken based on rules. Irrelevant to-do lists are a thing of the past. Automatically cleanup reminders upon case closure.
GrowPath is pushing the market using artificial intelligence and algorithms. AI enables your firm to do more with less. AI is a differentiator that enables your firm to scale and win more cases while not hiring an army of support staff.
Define what "high value case" means to you, and our AI based lead scoring algorithm will alert your staff when an intake reaches a certain score.
Don't let time sensitive tasks get lost. With our rule driven Smart Reminders, you will never miss an event driven activity. Smart Reminders tell your staff what to do and when.
IVR integration with providers including RingCentral and more coming. This enables real time use of features like Buzzwords and Lead Scoring with natural language processing of the call transcript.
GrowPath is setting the standard for leveraging AI and other advanced technologies like Big Data. We have new features constantly under development to maximize your firms' efficiencies and revenue growth.
Users report significant time savings with our patented caseview design. Your view is customized to show you exactly what you need to see.
Capture, organize and quickly find notes for individual cases and/or across a group of cases. Unique to GrowPath is the ability to find notes through advanced search capabilities.
Most platforms boast email integration but only let you send. GrowPath captures replies and attachments as well and auto-adds them to the record.
Advanced mail merge capabilities enable mass communications. Leverage pre-built templates or create your own.
Leverage combined military-grade cybersecurity with our patented data obfuscation to give you the most secure platform on the market for your clients' data.
View all your cases by stage and identify where potential overloads or bottlenecks exist. See all of this in real time in an easy-to-read dashboard.
Track deadlines, dates and appointments all within GrowPath. Easily filter by case, attorney, paralegal, event or any other case attribute. Additionally sync with your Outlook Calendar to never be out of date.
Claim full value of your case across all elements of loss with proper documentation. Leverage excel-based settlement calculator for negotiations for each offer and counteroffer. Account for the differences in jurisdictional or firm-specific requirements re apportionment of settlement funds (most in app calculators do not).
Automate tasks for your specific case type processes which greatly reduces administrative time and improves office efficiencies. Automatically assign tasks to resources based on rules and track completion to assure cases are moving forward.
Out of the box integration with OneDrive, MS Exchange, MS 365, Ring Central, Assuresign, Mfax.io, Lead Docket and more coming all the time.
Only GrowPath has multiple cloud providers (Google, AWS and Microsoft Azure); to deliver a near perfect infrastructure that will virtually always be available. Having access to GrowPath will not be an issue.
In today's environment people want to sign documents electronically, via tablets, phones and laptops. GrowPath has integrated Assuresign so you do not need to worry about managing additional vendors and contracts.
Worried that your internet goes down, but you still need access to your cases and documents? GrowPath has developed an On-site back up (optional) that enables you to still access documents and cases.
Does your firm refer cases to other firms and need track? GrowPath enables your firm to send, receive and track referral cases. GrowPath enables this both securely and in real-time via email. Firms can approve/reject the referral based on the Matter summary.
Leverage the power of Microsoft to create and edit all of your documents (word, excel, etc). Storing them in OneDrive seamlessly enables real-time sharing of these documents across the team as well. This can be done one at a time or in bulk.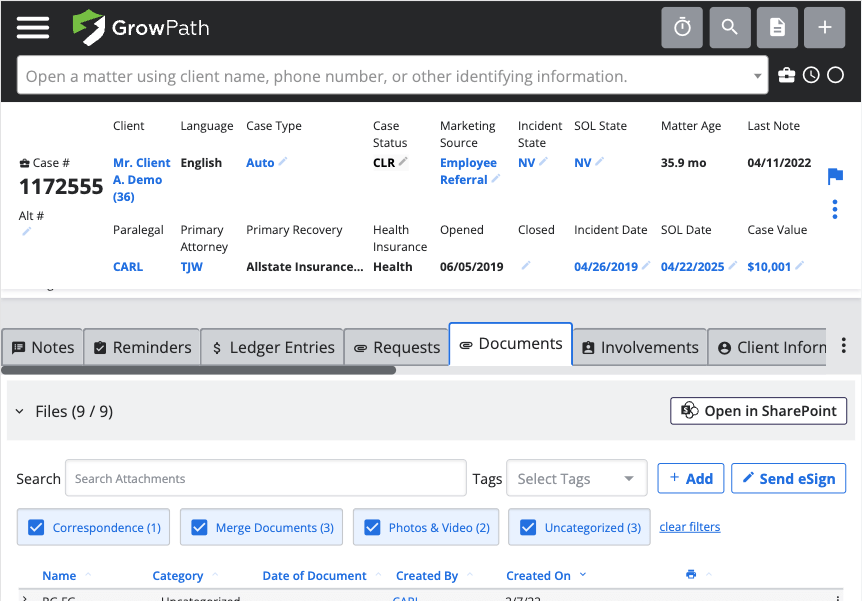 Case Studies
Discover How We Helped Others With Law Firm Management
Eric H.
Personal Injury Attorney
Gabby S.
Personal Injury Paralegal
Gabe T.
Personal Injury Attorney
Jane K.
Eminent Domain Paralegal
Kenneth B.
Eminent Domain Attorney
Mathew S.
Workers' Compensation Paralegal
Ryan B.
Workers' Comp Attorney
Wendie R.
Social Security Paralegal